NEEDLE EXPO 2021 RELEASES

THE BLUE FLOWER
Designs and descriptions by Jeannine McGowan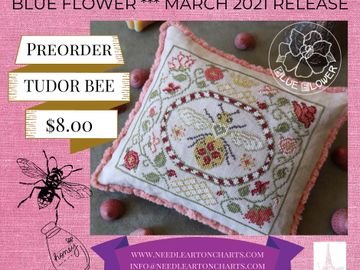 TUDOR BEE
$8.00
This is the first entry in a new "Tudor-inspired" series. This design features a central bee with a surrounding of roses and honeycomb.
TUDOR SWAN
$8.00
This is the second of the "Tudor-inspired" designs so far. The border was initially drawn from a chapel ceiling at Hampton Court palace, and the motif of the swan is very common in Tudor art (often symbolizing fidelity in love).
WILDFLOWERS
$12.00
The inspiration for this piece came from a profusion of wildflowers (although I've taken some poetic license with a few of them). The text comes from a Canadian poet, Marjorie Pickthall, and her poem "Daisy Time."